Charging is boring and is easily the part of tech, and certainly photography, that I think about the least. But after using the Bronine Volkit, I can honestly say that has changed.
The Bronine Volkit landed on our radar almost exactly a year ago when it hit Kickstarter. This is described as a free voltage charging device that uses a main central hub that houses up to four interchangeable charging modules at a time. Bronine called it an "AI charger" because it is able to scan a battery and automatically adjust the voltage to charge that specific battery between 1 and 15.6 volts.
At the time, I called it a stretch to think of this technology as "AI", but I was prepared to give it the benefit of the doubt. Bronine sponsored this showcase so that we could see the finished product, and sent over two of its Volkit hubs (the two ports and the four ports) as well as a few battery chargers of my choice. I don't use much outside of Canon these days so I requested a set of Canon LP-E6 chargers as well as the dongle to charge a DJI Mavic 2 battery. Everything came in individual boxes below , none of which had foreign plastic packaging which I certainly appreciated.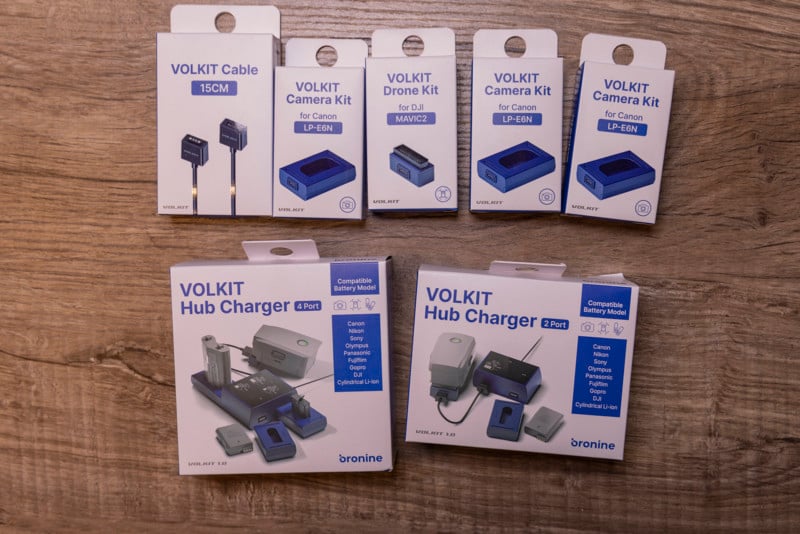 What's in the box?
The Bronine Volkit is extremely straightforward, so what's included is pretty straightforward. Each box contains either a main hub or a module. The modules connect magnetically, so there isn't much to spare other than the plastic charger itself. Hubs have a bit more and include a USB-C charging cable (but no charging brick) as well as the hub itself.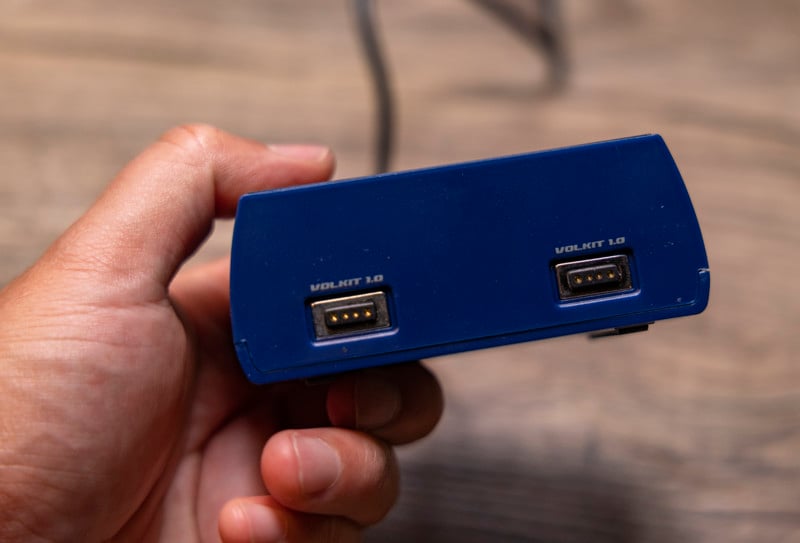 This is a full plastic case other than the metal contact points, and while they feel pretty sturdy, I wouldn't recommend dropping them on a concrete floor.
Tons of options
The number of modules offered by Bronine is quite comprehensive and covers a huge list of the batteries most used by photographers. At the time of publication, Bronine lists 32 different modules of the Canon LP-E6NH and the DJI Mavic 2 Pro. to the Nikon EN-EL15C and the Sony NP-FZ100. All in all, there are battery options for Sony, Canon, Nikon, Panasonic, Olympus Fujifilm, GoPro, DJI and even a cylindrical module that can charge five different lithium-ion batteries.
The two-port charger costs $ 48, the four-port charger costs $ 78, and each module is $ 9, with the exception of the cylindrical battery module which costs $ 10.
There's no reason Bronine couldn't keep adding more (and I imagine the company will), and it would be nice to see a module to charge four or more AA-size lithium-ion batteries and also those of Panasonic full frame camera battery.
Let's move on
Once you've plugged the USB-C into both the Volkit itself and a charging brick, you're good to go. The charger works just as you'd expect: insert a battery, slide the module onto the Volkit hub, and off you go shopping. Each individual battery charging module or cable is magnetic and connects to one of the open ports on the four or two bay Volkit hub.
It doesn't matter which port the modules are connected to, and they can be plugged in and unplugged at will without any problem.
Once locked, the Volkit needs a few seconds to calibrate its voltage, then it begins to charge. The hubs each have a display that shows the charging progress, battery voltage, and the mAh the battery has taken since it was charged. I originally thought the mAh reading would tell me how much total juice the battery had, but it seems to reset every time you plug or unplug the module, so I think it just tells me how much has been added since the start of the charge.
Honestly, I like having so much information. I have used the Canon battery charger that came with cameras and have been doing so for years, and what the Volkit shows here is much more useful than a flashing light.
Speaking of that blinking light, that might not be correct. I had a battery that was showing 100% green and was fully charged on my Canon wall charger, but it was able to accept more juice once I plugged it into the Volkit.
Basically, it seems that a standard "dumb" charger doesn't necessarily give you maximum performance as a Bronine "smart" charger. But the benefits of the system do not end there.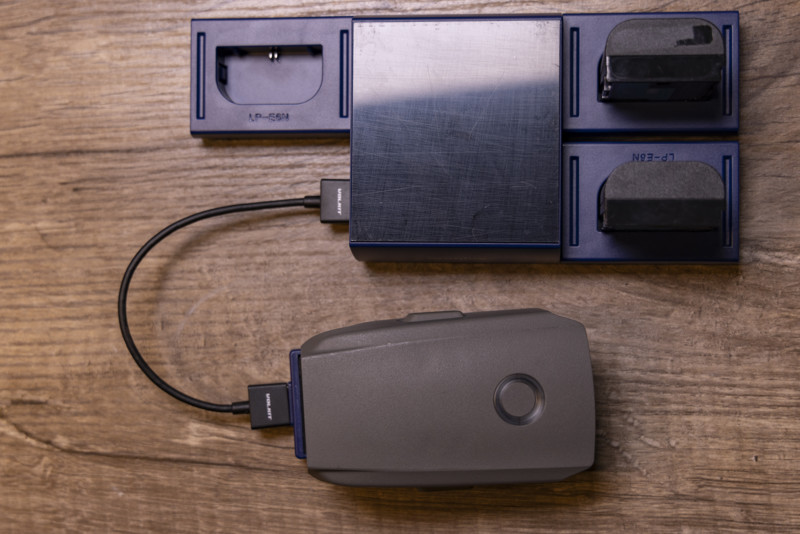 Better than the official charger
Besides charging, I found something else that really sold me on the Volkit. Two of my LP-E6N batteries that I bought direct from Canon had stopped working in my EOS R in the last few months (I now use it as a webcam). While they still work fine in all of my battery powered accessories, the EOS R refused to power on and gave me an "Err" code on the top LCD screen. Even when trying to charge them in Canon's wall charger, the little red light was constantly blinking, as if to further emphasize that something was wrong. After loading both into the Volkit, however, they seem to have been reset somehow and the EOS R happily accepts them again. I don't know what kind of devil magic is at work here, but I'm not complaining at all.
If I had to make a complaint about the Volkit, it's that the display is quite weak. In bright light, like the one in my studio, it can be very difficult to see the screen because it reflects a lot of glare and doesn't have a lot of output. It's a little problem though, if I'm being honest.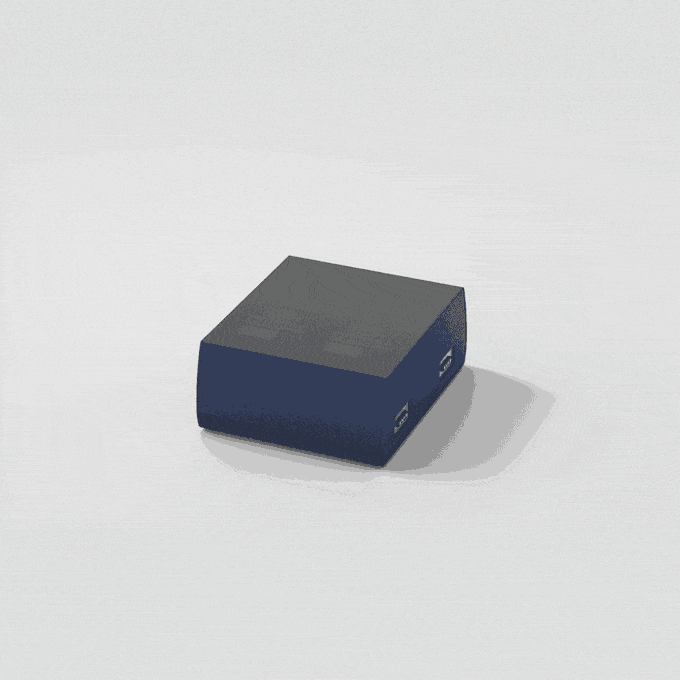 The Volkit gives me visibility on the load
Charging the batteries has always seemed like a mystery box to me. The stock chargers that come with just about every camera and drone are mostly a guessing game where I felt like I was waiting for the flashing light to tell me something useful. If something was not working properly, I had no idea how to fix the problem.
The Volkit changed that. It seems smart enough to fix issues with batteries and gives me a level of visibility into charging that I've never had before. When I first saw the Volkit I ignored it as just another charger and sort of scoffed at the "AI" claims. After using it I'm glad I was wrong. I am a believer: this thing rocks.
---
Welcome to a PetaPixel showcase, in which our staff present you with unique and interesting products from all the photography landscape. The Showcase format gives manufacturers the opportunity to sponsor hands-on time with their products and our staff, and it allows them to highlight features they find interesting, but the opinions expressed by PetaPixel staff are genuine. Showcases are not to be taken as an endorsement by PetaPixel.